Mission Research is proud to partner with Over/Zero, a boutique marketing and branding agency that specializes in the application of qualitative techniques to gain deeper insights into perceptions of brand.
Over/Zero draws on expertise in a range of methods rooted in cognitive psychology, semiotics, iconography and cultural anthropology to help organizations create breakthrough brand strategies and produce winning solutions for their brand.
For the past 20 years, we have been experts in uncovering truths of the human experience and have helped companies create breakthrough brand strategies and winning solutions. Hard-earned expertise and a mastery of the tools and techniques allow us to be creative and take risks to bring subjects to life and deliver infinitely deeper insights
Robert Hutton
Director of Insights
About Robert
Robert Hutton is the Principal and Insights Director at OVER/zero. With a career in market research that has spanned more than two decades, Robert has come to be regarded as among the leaders in qualitative research.
Prior to founding Over/zero, he was Executive Vice President of IFOP S.A., a major European market research conglomerate, and COO of Pollara Strategic Insights. His early career included management positions in major CPG, Financial and Telecom companies.
Robert has testified in front of House of Commons committees, the CRTC and as an expert witness in litigation cases. He was the keynote speaker at the Retail Council annual convention, the Broadcast Bureau conference, the
Unilever Sustainability symposium and the Advertising Research Foundation conference in New York. Robert was part of a team that won a CASSIES award in 2011 for repositioning Algoma University and again in 2014 for rebranding Lake of Bays Brewing.
Robert is a RIVA Master Moderator and holds the Certified Research Practitioner certification at the Expert level from the American Market Research Association in Quantitative Research.
Michelle Zeppieri
Qualitative Research Consultant
About Michelle
Michelle Zeppieri is a Qualitative Research Consultant at OVER/zero. With 6 years of experience in market research, her strength lies in her ability to empathize with the thoughts and feelings of others, which is what drew her to qualitative research at the start of her career. This is reflected both in her interviewing techniques as well as in her analytical approach.
Michelle is highly experienced in qualitative research analysis, which allows her to use her creative talents to produce custom deliverables for clients. She is passionate about creating impactful insight templates, reports, and presentations that increase usability and achieve staying power so that her clients get the most out of their research program.
Michelle has a Bachelor of Com merce degree with a major in Marketing Management from the University of Guelph. She enjoys organic gardening and can be seen with a well-loved, pocket-book-sized copy of 'Empathy' from the Harvard Business Review Emotional Intelligence Series.
Dr. Heather Scott-Marshall
President & Scientific Director
About Heather
Company president Dr. Heather Scott-Marshall founded Mission Research in 2000. Heather holds a PhD from the University of Toronto and has extensive training in advanced research methods, both quantitative and qualitative. In her 15+ years of professional research experience, Heather has provided consulting services to renowned national research firms.
During the course of her consulting experience, Heather found that some firms' standards of quality and ethics were significantly lower than the rigorous standards required by scientific peer-review. In response, Heather founded Mission Research with the goal of bringing peer-review standards to all aspects of research in the private and public sectors. Heather has provided strategic consultations to all levels of government as well as a wide variety of organizations in the private sector with specialties in consumer products, telecommunications, finance, e-commerce and media. She is the author of several peer-reviewed research articles for high-impact scientific journals such as Social Science & Medicine, Social Indicators Research, International Journal of Health Services, and Canadian Journal of Public Health.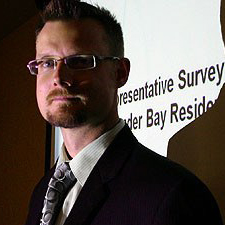 Lucas Marshall
Vice President
About Lucas
Over the past 20+ years, Lucas Marshall has gained a strong reputation as a logical action-oriented researcher providing advice and counsel to clients in a wide range of sectors including public affairs, health & pharma, tech/telecom, financial and media.
Lucas has become a recognized leader in conducting online research, sophisticated media analyses, and research for public relations initiatives. He has managed a number of studies for public release and has appeared as a spokesperson in a variety of news outlets including the Globe and Mail, the National Post and CBC News. Lucas holds a Bachelor of Journalism and was formerly a practicing journalist much earlier in his career. Lucas has also pursued a MA in Public Policy and Administration from Ryerson University and completed advanced-level courses in quantitative methods and statistics.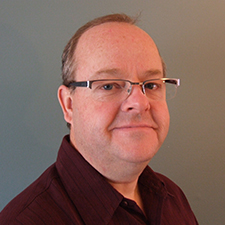 Chris O'Rourke
Director of Operations
About Chris
Chris O'Rourke has been an active member of the research industry for over 30 years. As Director of Operations, Chris is responsible for all information systems, including operational and strategic planning for quantitative and qualitative project applications. Chris assists with project execution and provides strategic insight to the management of CATI/Online data facilities, as well as to various operational departments, including programming, statistical analysis, quality control, desk-top publishing, and computer systems.
Chris directly manages several Operations staff and continues to play an active role in maintaining stringent quality control protocols. Chris also has deep expertise in methodological design and statistical analyses. Over the course of his career, Chris has overseen more than two thousand quantitative projects.